December Saints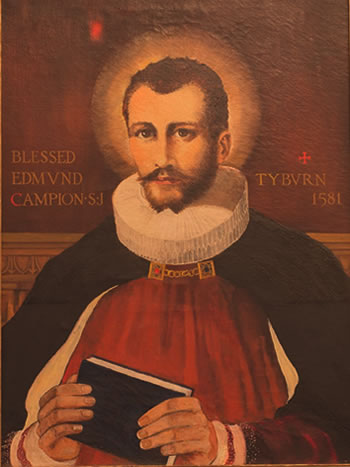 Saint Edmund Campion
(1540-1581)
Edmund was born in London, the son of a bookseller. He was raised a Catholic, and given a scholarship to St. John's College, Oxford, where his brilliance attracted the attention of many leading personages. He took the Oath of Supremacy, acknowledging Elizabeth as head of the church in England, and became an Anglican deacon in 1564.
Doubts about Protestantism increasingly beset him, and in 1569 he went to Ireland where further study convinced him he had been in error, and he returned to Catholicism. Forced to flee the persecution unleashed on Catholics by the excommunication of Elizabeth by Pope Pius V, he went to Douai, France, where he studied theology and joined the Jesuits. He taught at the college of Prague and in 1578 was ordained there. He was one of the first Jesuits chosen for the English mission and was sent to England in 1580. His activities among the Catholics, and the premature publication of a document he had written to present his case if he was captured made him the object of one of the most intensive manhunts in English history. He was betrayed at Lyford, near Oxford, imprisoned in the Tower of London and, when he refused to apostatise, was tortured and then hanged, drawn, and quartered at Tyburn on December 1 on the technical charge of treason, but in reality because of his priesthood.
Saint Edmund, obtain for us the courage to stand up for our faith.
(Source: http://www.catholic.org/saints/saint.php?saint_id=624)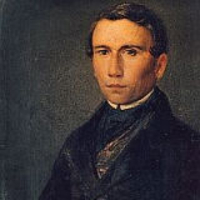 Blessed Adolph Kolping
(1813-1865)
Adolph Kolping was born in Kerpen, Germany, the fourth child of Peter and Anna Maria. His parents, though poor, provided a good education for their children, who were never allowed to miss school. Because of the family's poverty, Adolph's natural desire for study was curtailed, and he took an apprenticeship as a shoemaker at age 13. Finally, after ten years, a well-to-do lady offered to finance his studies, so he went back to school to pick up where he had left off. Having passed his final exam in 1841, he persuaded his parish priest to allow him to study theology. He was eventually ordained a priest on 13 April 1845, the day after the death of his father.
On his first assignment, he met a schoolteacher who had set up an organisation for young tradesmen. Father Kolping had intended to lead an academic life, but his work with this group made him realise that God had called him to devote his life and efforts to the young people. A transfer to Cologne in 1849 enabled him to enlarge the organisation. He travelled and made contacts throughout Europe, working tirelessly for his young working men. He used to say, 'The first thing a person finds in life and the last to which he holds out his hand, and the most precious he possesses, even if he does not realise it, is family life.' This is what he strove to establish for his young workers. He enabled them to further their education in a supportive, religious environment. His genius lay in offering, not just a place to stay, but the support, the sharing and the values that formed a family.
Adolph's devotion to his calling and his determination to further his work caused him to neglect his never robust health, and he died at the early age of 51. His legacy is his life's work, his ideals and goals but, most importantly, his example in recognising his vocation, making a personal commitment to it, and carrying it to fulfilment.
Blessed Adolph, help us to promote the values of family life.
(Source: Internet – various)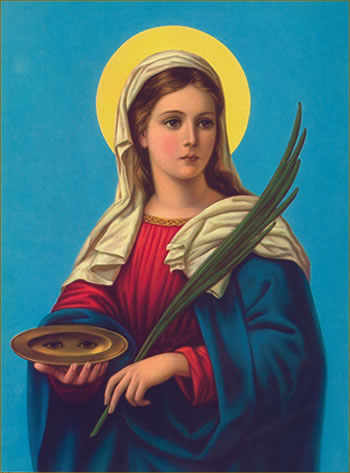 Saint Lucy
(d. 304)
Lucy, Italian Santa Lucia, is the patron saint of the city of Syracuse (Sicily). According to apocryphal texts, Lucy came from a wealthy Sicilian family. Spurning marriage and worldly goods, however, she vowed to remain a virgin. An angry suitor reported her to the local Roman authorities, who sentenced her to be removed to a brothel and forced into prostitution. This order was thwarted, according to legend, by divine intervention; Lucy became immovable and could not be carried away. She was next condemned to death by fire, but she proved impervious to the flames. Finally, her neck was pierced by a sword and she died.
Actually, Lucy was probably a victim of the wave of persecution of Christians that occurred late in the reign of the Roman emperor Diocletian.
Saint Lucy, give us the courage to truly live our faith.
(Source: http://www.ewtn.com/library/mary/stlucy.ht http://www.britannica.com/biography/Saint-Lucy)