Fr Brian Conaghan SM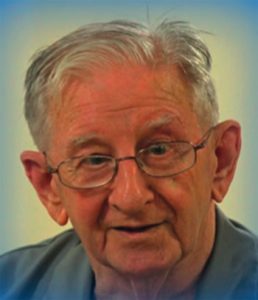 Born in Rozelle, Sydney,
12 November 1931
Professed 2 February1951
Died 2 July 2018
Brian Conaghan ("Connie"), was one of five children born to Patrick and Delma. The eldest child died of whooping cough at the age of five. A younger sister of Brian's joined the Parramatta Sisters of Mercy and was matron of the Stella Maris nursing home at Cronulla for 25 years. 
Driving into the city along Victoria Road, across some very busy intersections around Rozelle, to the surprise of younger companions, Brian would would relate how, as a young boy, he had to move the family cow between his home and the paddock on the other side of Victoria Rd where their cow pastured. 
Brian was educated first by the Good Samaritan Sisters at Rozelle and then by the Christian Brothers at Lewisham. Brian always maintained that it was the Christian Brothers who enkindled in him a devotion to Our Lady and subsequently led him to the Society of Mary.
He joined the Society as a postulant at Toongabbie (NSW) in 1949 and was ordained at St Patrick's, Church Hill, Sydney, in 1956.
Brian's first appointment was as Curate in Redcliffe ('57 – 60), a Perth suburb, and then to West Sunshine (Melbourne). A year teaching at Burnie College (Tas) (1963) and two years as Chaplain at Royal North Shore Hospital (82 – 84) would be Brian's only time out of parish ministry in 44 years. 
From 1964 – 79, Brian served as either Parish Priest or Assistant in the Marist parishes of Burnie, St Patrick's Church Hill, Hunters Hill, and St John's Wood (Brisbane). His first appointment in charge of a parish was to Hunters Hill in 1970. Two outstanding reminders of Brian's presence in the parish are the beautifully renovated 19th Century 'French-styled' Holy Name parish church, and the parish hall constructed under his leadership.
Following the liturgical reforms of the Second Vatican Council, Brian, following the advice of good architects, did a truly magnificent job in making Villa Maria a model of how to restore and modernise a church. Just up the road from the church Brian had built a spacious, functional and attractive parish hall that has stood the test of time for over fifty years. 
Following a short period at Helensburgh in 1980, for the next twenty years, Brian was 'on loan"' to the Archdiocese of Sydney. He was an experienced priest who generously made himself available to work in the large parishes of Sydney's urban sprawl. Brian did some of his best work as a pastor when stationed in Liverpool, Panania, and Bondi. From April 1996 until the end of 2000 Brian was priest-in-residence in Macquarie Fields, a part of western Sydney that belongs to the Diocese of Wollongong. 
In January 2001 Brian was appointed Superior of the Marist's Maryvale Community caring for the elderly members of the Society in the Australian Province. A completely new form of ministry for Brian but once more he excelled in the challenge. Kindness to the men in his charge and good organization were the features of his ministry. 
Brian then moved to Villa Maria monastery in 2007 and from here carried out relief work in many country parishes, especially around Armidale diocese. Again Brian's great generosity was a feature of his ministry. As always he would provide for his parishioners, his flock, from his own strong convictions and faith.
Brian was a very dedicated, conscientious priest, a man with a deep traditional faith and devotions. He didn't go much on some modern prayer forms and practices but he was passionate about his rosary, devotion to Divine Mercy and the intercessory powers of Sr. Faustina, for example. Even in the last six years when health issues forced him to retire, he would send to friends in far-away dioceses prayers, readings and some of his own writings. For most of Brian's life he was a man of action, very determined, giving himself completely to the projects he wanted to bring to fruition. 
In his final years we saw a new side of Brian. After some serious health issues and the onset of dementia he became more gentle, more accepting of other ways and approaches, and allowing people to care for him. 
A confrere, pastor, and family member sadly missed by many.